A really nice layout, without photos. I never thought it would look this fun. I really should go back to scrapping.
I'm grabbing the photo and the text from Aggie's post. I'm as excited as Aggie because DH took this beautiful picture of Aggie's family. This wasn't really a posed or planned shot. Just our families talking and relaxing and hanging out at Starbucks in Tagaytay. I'm also so happy for Aggie for having her pretty layout on the cover of the magazine.
This is SSD Debut Magazine: SIMPLY SWEET!.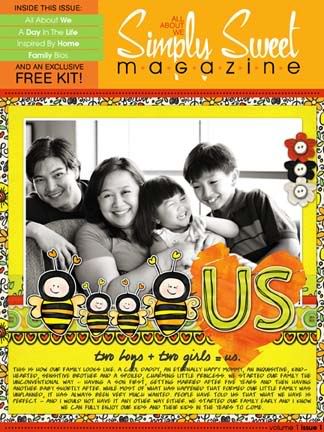 Sweet Shoppe Designs proudly presents Simply Sweet Magazine. In the debut issue of our in-house idea digest, our team tackles a subject close to everyone's heart, Home & Family. Not only is Simply Sweet packed with gorgeous layouts and inspiration featuring Sweet Shoppe products, you'll also want to think of this issue as your go-to guide for creative ideas that will get you scrapping pages for your loved ones, which you may not have thought to scrap otherwise.
Inside this issue:
Ask SSD – your burning questions answered
All About We – share your family's stories
Inspired by Home – find inspiration in every room in your house
Family Biographies – a new take on an scrap standard
Bittersweet – tackle life's difficult subjects
Hybrid Inspiration – a step-by-step tutorial & hybrid home helpers
and Lots, LOTS more!
Every issue of Simply Sweet also includes EXCLUSIVE downloads which will never be available elsewhere!
This issue's exclusives:
Lil' Birdhouse by Eva Kipler, Traci Reed, Susan Bartolini, Julie Billingsley, Melissa Bennett & Zoe Pearn.
Lil' Birdie Quickpages by Lizzy Reiber, Amy Carey, Aggie Aviso, Teresa Victor, Tracy Ducar & Sue Setiadji.
Realistic shadows make a digital layout look like a traditional scrapbook page. It's one trick that I would like to learn. I have downloaded some Photoshop styles to add shadows on my layout but I think knowing how do it is still the best thing. I came across these tips from Simple Scrapper. I will be referring to these tips once I get back on scrapbooking.
I gave in. I just can't resist good deals.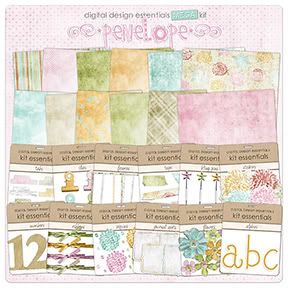 Got the DDE Penelope MEGA Kit Essential for only $2.99. Hurry, the Early Bird Special is on May 22nd only.
Part 1.
Because I have two more sets from two stores. These are my loots from FPD.
I will be organizing my scrap materials, for the nth time. I don't think I'll be using ACDSee this time. I will just probably arrange them by type in folders, whatever. I just can't seem to figure out ACDSee. Or I might just be slow. I was almost done with my organization a long time ago then I think I moved the files to a new harddrive and the preview seemed to be working fine. But when I tried locating the item, the ACDSee couldn't find it. Basta, magulo. Good luck Alpha. Oh yes, why not scrap muna. Because when I scrap I want my materials to be laid out in front of me, yes all of them (they're not much, anyway) so I can choose what to use. I'm the type who wants to check out everything first before picking my materials. Or maybe I can scrap and organize at the same time. I'll try.