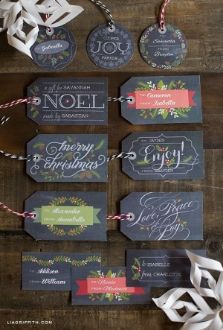 You can grab this set of free printable chalkboard Christmas gift tags here.
Can be used for project life or atc.
Grab them here.


The North Woods
I Like You A Latte
Especially For You


A Christmas To Remember
Self-Portrait
A Spoonful of Sugar


Something Pretty
Only You!
Believe It
This Christmas I decided to keep my hanging Santa's in storage. I want to go simple this time with less of those hanging ornaments in the house. But then I saw these cheap snowflakes in the bookstore and I just had to buy them. So now our house looks like it's trying so hard to have a white Christmas. We spent quite a number of s hooks to hang them. And as I predicted, I have a number of Christmas trees around the house. I have our usual tree (which I so want to replace with a white or pink or silver tree. Next year maybe!), small trees wrapped in burlap, wooden trees and a metal one.

Black Friday Freebie Template
Sketch 322
December Template Challenge

Tis The Season
Jingle Bell Rock
Birthday Mix

Pimp My Page Challenge Template
12 Days Template Freebie
Template Revisited 6


Stripey Papers
Eco-Friendly
Falling For Autumn


Beautiful Moments
Warm Whispers
Halloween

Pimp My Page Challenge Template
Template Inspiration
Template Inspiration
Art Journal Brushes
Friday Freebie No. 8
MandaGirl Template 94